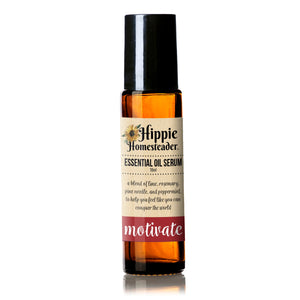 Finding it hard to focus? Have a million things to do but no desire to get moving? Get the extra you the push you need with MOTIVATE! After one whiff the energizer bunny will  have a hard time keeping up with you.
Description
Scent: Unique blend of woodsy and refreshing

Made with: Pure essential oils, vegan, and cruelty free
Size: 10ml
Packaging: Amber glass bottle with glass roller ball cap
Questions? Is MOTIVATE right for you? Hit the chat button or shoot us an email, we'd be happy to help you find the perfect product!
How to Use
Roll over your wrists, temples, neck, bottom of feet, or wherever your intuition leads you. Aromatherapy works through inhalation as well as absorption through your skin, so even if you cannot smell the scent of the oil you will still receive the benefits! Make sure to avoid sensitive or broken skin, do not roll near the eyes, and immediately discontinue use if any allergic reaction or irritation occurs.  
Essential Oil Benefits
Lime
Reduces Irritability, Increases Energy
Rosemary
Improves Memory, Increases Mental Clarity, Reduces Emotional Stress
Pine Needle
Reduces Stress and Tension
Peppermint
Combats Fatigue, Promotes Wellbeing, Increases Mental Alertness
For more information on our ingredients visit our Essential Oil Glossary page.
Ingredients
organic sunflower oil, MOTIVATE essential oil blend [lime, rosemary, pine needle, peppermint]

Disclaimer
These statements have not been evaluated by the Food and Drug Administration. This product is not intended to diagnose, treat, cure, or prevent any disease.