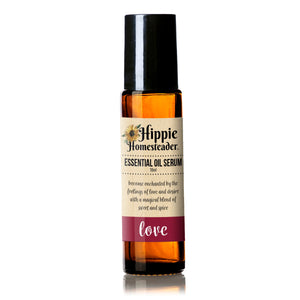 Become enchanted with the feelings of love & desire with a magical blend of sweet and spice.

Description
Essential oils are best known for their aromatherapy effects but every element has a magic side. Spirit Scents highlight the metaphysical qualities of each oil, giving you a touch of magic in your day!
Scent: Spicy and sweet with just a faint hint of smokey musk

Made with: Pure essential oils, vegan, and cruelty free
Size: 10ml
Packaging: Amber glass bottle with glass roller ball cap
Questions? Is Love Spirit Scent right for you? Hit the chat button or shoot us an email, we'd be happy to help you find the perfect product!
How to Use
Love, whether it be romantic love, self-love, or any other kind of love, all originates within the same heart. Open your heart to the flow of love with this magical scent.
To use roll over your wrists, temples, neck, bottom of feet, or wherever your intuition leads you. Aromatherapy works through inhalation as well as absorption through your skin, so even if you cannot smell the scent of the oil you will still receive the benefits! Make sure to avoid sensitive or broken skin, do not roll near the eyes, and immediately discontinue use if any allergic reaction or irritation occurs.  
Magical Properties

Cinnamon
Offers protections and healing. Increases romantic desires and is a great benefit in the process of manifestation.
Allspice
Brings luck and positive changes. Has a fiery energy and strong powers of attraction.
Vetiver
Increases feelings of being lovable and attractive. Offers protection from those who wish to do you harm.
Yarrow
Encourages confidence and self-love. Increases happiness within relationships and offer healing from old wounds.
Ylang Ylang
Brings about emotional healing giving you feelings of peace and relaxation. Connects you to the divine feminine energy.
For more information on our ingredients visit our Essential Oil Glossary page.
Ingredients
organic sunflower oil, Love essential oil blend [cinnamon, allspice, vetiver, yarrow, ylang ylang]
Disclaimer
These statements have not been evaluated by the Food and Drug Administration. This product is not intended to diagnose, treat, cure, or prevent any disease.