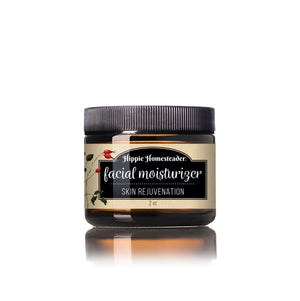 Is your skin dull, tired, or dry? Give your face a radiant glow and all natural hydration with our Facial Moisturizer.
Description
How to use: Gently apply a thin layer over entire face or just where needed. Use after cleansing or as a primer just before applying make up.

Size: 2 oz
Packaging: Amber glass jar
Questions? Is our Facial Moisturizer right for you? Hit the chat button or shoot us an email, we'd be happy to help you find the perfect product!
Ingredient Benefits

Sweet Almond Oil - Rich in Vitamin E, Hypoallergenic, Reduces Dark Circles
Avocado Oil - Hydrates and Softens Skin, and Reduces Inflammation
Beeswax - Improves Hydration, Promotes Cell Regeneration, Provides Protective Barrier to Seal in Moisture
Rosehip Seed Oil - Antioxidant and Essential Fatty Acid Rich, Hydrating, and Reduces Scars and Fine Line
Frankincense Essential Oil - Powerful Astringent, Reduce Acne Blemishes, Reduces Appearance of Pores, Prevents Wrinkles, and Lifts and Tightens Skin
Cypress Essential Oil - Reduces Dark Spots, Helps Clear Acne, Firms and Tones Skin
Bergamot Essential Oil - Reduces Appearance of Scars, Helps Unclog Pores, Balances Oily Skin
Clary Sage Essential Oil - Reduces Inflammation, Balances Oily Skin
Ingredients
sweet almond oil, avocado oil, beeswax, rosehip seed oil, frankincense essential oil, cypress essential oil, bergamot essential oil, clary sage essential oil

Disclaimer
These statements have not been evaluated by the Food and Drug Administration. This product is not intended to diagnose, treat, cure, or prevent any disease.