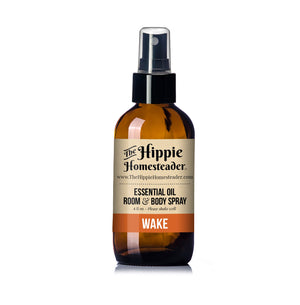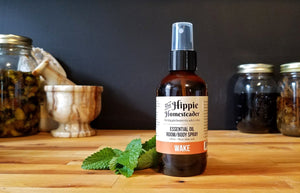 Early mornings have you down? Don't dive back under the covers, grab your WAKE and start your day! No coffee jitters, just bright, happy, hippie feelings.
Description
Scent: Bright citrus aroma with hints of spice
Made with: Pure essential oils, vegan, and cruelty free
Size: 4oz
Packaging: Amber glass bottle with fine mist sprayer
Questions? Is WAKE right for you? Hit the chat button or shoot us an email, we'd be happy to help you find the perfect product!
Essential Oil Benefits
Grapefruit
Mood Balancing, Reduces Stress, Energizing
Frankincense
Reduces Stress, Lessens Negative Emotions, and Promotes Emotional Balance
Sweet Orange
Uplifting, Promotes Wellbeing, and Reduces Stress
Ginger
Relieves Anxiety, Uplifts Mood, Reduces Fatigue
For more information on our ingredients visit our Essential Oil Glossary page.
Ingredients
distilled water, witch hazel, WAKE essential oil blend [grapefruit, frankincense, sweet orange, ginger]
Disclaimer
These statements have not been evaluated by the Food and Drug Administration. This product is not intended to diagnose, treat, cure, or prevent any disease.